Baby-steps for NS Carbon Tax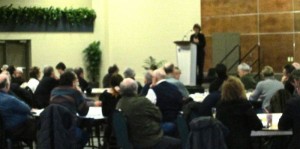 Imagine Nova Scotia having a chance to be a world leader in global warming policy while taking a bite out of poverty! The notion came out on the table, sometimes as calm points gestured, other times as fists flying, when citizens commented, cooperated or clashed at the January 21st public meeting for tax reform. In a large convention style room at Mount Saint Vincent University in Halifax, filled to overflowing, citizens of all ages, backgrounds and lobbyist persuasions, convened  to debate carbon pricing and to listen to finance minister, the Honourable Diana Whalen outline the government's current status concerning the recent release of the
Broten Report
on the need for Nova Scotia tax reform.
The introduction to the Broten Report states: "The essence of the tax recommendations would shift more of the burden of taxation toward consumption, and off personal and corporate income; and would tax pollution with the resulting revenue further reducing income taxes and offering income support to Nova Scotians who need it most. The basic rationale for pollution taxation is clear. Pollution imposes costs on society that are not currently borne by the polluter. A tax ensures that the polluter accounts for these costs and, on this basis, reduces pollution…"
The evening was largely an informal meet and greet between policy makers from the finance, environment and various other departments and the public, made up of representatives from such groups as the Ecology Action Centre, Citizens' Climate Lobby Halifax, the Canadian Centre for Policy Alternatives, the Affordable Energy Coalition, and Mount Saint Vincent Social Science Faculties. Individual citizens representing small business and private household concerns and four MLAs were also present.

Six citizens from a local chapter of the non-profit international Citizens' Climate Lobby put their 'prop cheques' payable to "Residents of Nova Scotia" and a colourful infographic cartoon strip showing the advantage of a carbon fee and dividend  by the plate of chocolate chip cookies the government provided to the citizens. Citizens depleted both supplies by night's end. This progressive approach to putting a price on pollution is proving to be sweeter than most as it is, in my opinion, the simplest, least expensive and fairest design, eliminating the need for an expensive bureaucracy; sparing the middle class and protecting lower income households by providing quarterly rebate cheques.
THE CARBON FEE AND DIVIDEND PROPOSAL has been  presented to both the finance and community service departments in recent weeks by Citizens' Climate Lobby Halifax volunteers enthusiastically pitching to government personnel, including Minister Whalen and community services policy director, Brenda Murray. This plan differs from the B.C. Carbon Tax as it offers more protection to the low income households. Dalhousie University economist, Dr. Lars Osberg in his paper, "The Carbon Tax and Dividend – A Proposal for Sustainability and Fairness" states:
"The whole point of a carbon tax is to increase the incentives, which individuals and firms have to economize on carbon energy use. Starting the tax at a low level, with pre-announced steady increases over time, gives individuals the time to switch, for example, to a car with better fuel mileage or to change their furnace or to insulate more effectively. Because the CTD offsets the average impact of a carbon tax, most families will be better off financially, but whatever the initial impact on family finances, all Nova Scotians will benefit from reducing carbon energy use."
For more info, see the full story as posted by the Halifax Media Co-op.