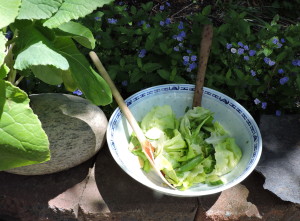 Ingredients:
sugar snap peas
buttercrunch or leaf lettuce
arugula
green onion
avocado
cucumbers
bacon bits
Throw in a little of everything you've got to this summery all-green salad. Wash, dry and tear the greens. Sluice in the onion, cucumbers and avocado. We like to leave the sugar snap peas whole. Others prefer to chop them diagonally. Add bacon bits for extra flavour, if available.
Dressing:
Use a dressing of your choice or, for an Asian flavor, use a little roasted sesame oil with rice vinegar.