Miso Soup Recipe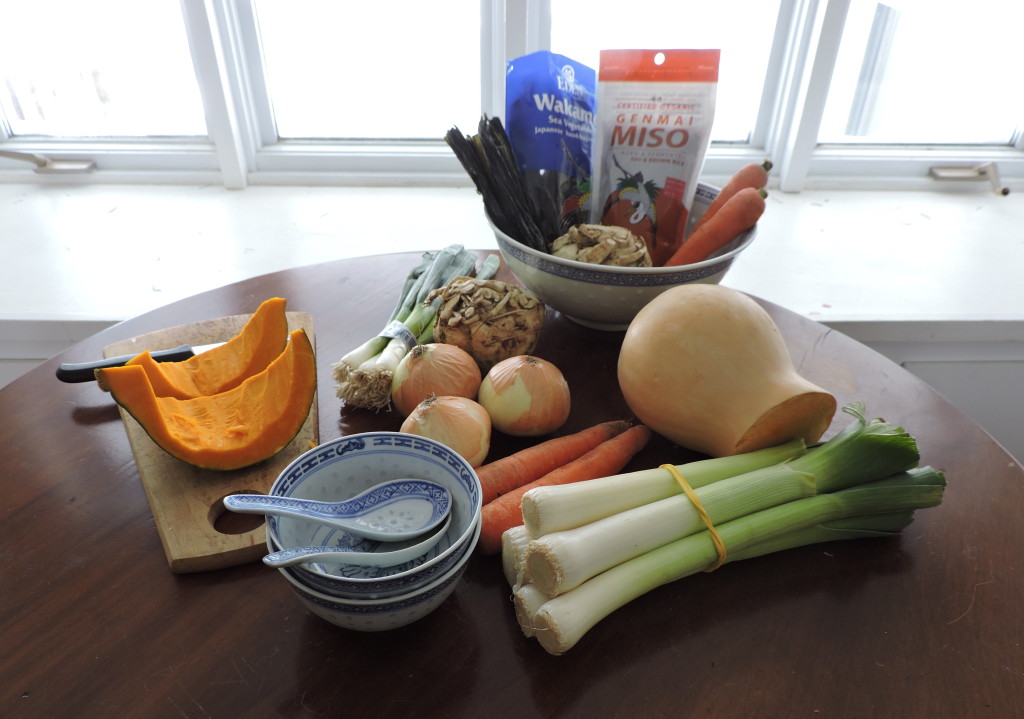 As winter storms pile up, I reach for my recipes books and fresh ingredients. It's always a challenge this time of year to find creative uses for seasonal vegetables. For the recipe today, I use as many local veggies as I can, with an added dash of Japanese fish powder, seaweed and organic miso. My husband and I make this tasty soup once or twice a week for breakfast.
Ingredients for a serving for two:
1/2 teaspoon Dashi (Bonito-flavoured fish powder)
2 cups water
1/4 cup chopped onion
1 stick of Wakame (dried Japanese seaweed)
1 chopped carrot or 1/4 small squash
1/4 chopped celeriac or fennel
1 tablespoon organic miso
Add 1/2 teaspoon of Dashi to 2 cups of water. Bring to a low boil. Break the dried Wakame stick into small pieces and soak in a small bowl of water. In a few minutes the pieces will expand in size and take on a soft leaf-like shape. Let them continue to soak while you add the rest of the ingredients, 1 chopped carrot, a handful of celeriac (or fennel) chopped into small cube shaped pieces,  to the boiling pot. Add 1/4 cup of chopped onions and 1/3 the length of a leek, as thinly sluiced rings. For variety and a slightly sweeter taste, we sometimes substitute squash in place of the carrot. Gently boil all ingredients in water for 10 minutes. Add the wakame to the soup and remove from heat. Skim off a little of the steaming water into a bowl. Measure 1 generous tablespoon of organic miso and stir it into the bowl of heated water until it becomes a rich colourful paste. Add this dissolved miso to the soup and you are ready to serve.