Show of Hands on Fish Farming
Yesterday's press conference held at the Lord Nelson Hotel in Halifax was greeted by a room jam-packed with 400 concerned citizens. The purpose of the meeting was to send a loud and clear message to the McNeil government to put order into the chaotic affairs of fish-farming in Nova Scotia. Those who were there witnessed an impressive show of leadership and collaboration by a wide coalition of community, environmental and commercial groups (in all 33 different organizations). Many of these groups had started in total opposition to unregulated open net fish pens in shallow waters but today rally together to support a comprehensive solution. The meeting contained an underlying warning that the recently issued Doelle-Lahey report must be adopted in full to be accepted by a disgruntled public and by a growing number of alarmed fishermen. Half measures won't do.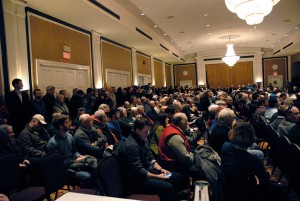 Stewart Lamont, of Tangier Lobster stated: "The status quo is a wild west show in Nova Scotia in terms of what can be done in open net pen farms."
Raymond Plourde, from the Ecology Action Centre, was asked by a reporter why his group's endorsement of the report was so guarded. Plourde replied that if he had his way open net fish pens in shallow waters would be banned entirely. He went on to give his reasons: too many fish are jammed together (in one case over 2 million fish contained in one netted pen in a cove near Lunenburg) resulting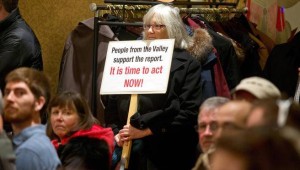 in diseases and parasites that migrate from the farmed fish to wild fish, endangering the total fish populations. As well, the waste products and pesticides used on the fish destroy sea beds in local harbours. Plourde explained that lobsters from Nova Scotia fetch top prices around the world (and support a billion dollar local industry). The reason for this great success is the belief that these lobsters come from pristine waters. This is true, but may not be for long if fish farms continue their unregulated and unsafe practices.