Thierry Vrain: Food Science Whistle-blower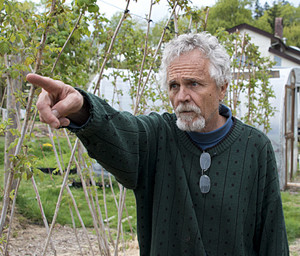 It's funny how ideas spread. Ideas can be suppressed for a time, distorted and disputed, but some ideas have such resilience and vitality that they do not go away. They simmer under the surface of popular culture and mainstream media, then suddenly explode onto public consciousness.
Such an idea is that of Thierry Vrain's lecture on Food, Ecology and Health. Vrain is a retired Canadian government food scientist, (formerly Head of Biotechnology at Agriculture Canada's Summerland Research Station), currently a whistle-blower and organic gardener living on Vancouver Island.  In a lecture from November, 2013, he recalls how, in the course of his research, he came across a document arguing that synthetic fertilizers are damaging the soil, damaging the life of the soil. His first reaction was: "I didn't know that. I didn't learn that in graduate school." He intensified his research. "Because if you tell me that organic is better for you, or organic is more nutritious, I say, show me the data."
What he found was the data was convincing and impossible to ignore. "That's when I converted. And I think it's because I became organic that I was prepared to read more widely. Over the last 5 to 7 years I've read a lot of studies, published scientific studies, that cite serious problems with this technology. When I was in the field, the paradigm was this is great technology, we are god, we can do wonderful things, we are going to do absolutely beautiful wonderful things for agriculture. I was told this was a green technology and I did not argue or question that like a lot of my colleagues. It was understood that this was the paradigm of the time, the dogma. Now I have basically changed my position. Tonight what I'm going to present to you is disturbing. Some of you may know of it already, some of you may be surprised, some of you may be shocked and some of you will be angry." Vrain's full lecture outlines the history of the GMO revolution, starting in 1996, and its disastrous effects on the environment and human health.
Thierry Vrain's talk is important on many levels. He raises issues about food safety, agricultural practice, and the corruption of science by corporations. Most importantly, his talk promotes an enlarged understanding of health based on the view of the human body as an ecosystem regulated by micro-organisms and our symbiotic relationship to them.
Thanks to Nigel Thornley for introducing us to the ideas and efforts of Thierry Vrain.